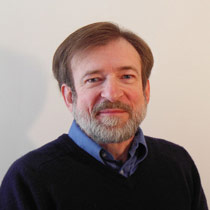 I am a painter living in southeastern Massachusetts, near Cape Cod. My ancestors were ship's carpenters in Nantucket and New Bedford. These days there aren't many whaling ships around, so I tried my hand at a number of other trades. Before becoming an artist, I worked as a carpenter and mason, was a commercial broadcast engineer, and ran an electronics test lab. (Not all on the same day.)
I have traveled extensively around my home town, often on foot and accompanied by my dogs Barney and Clyde. Many of the subjects in these paintings were discovered during our rambles together. Others were conjured up in the studio or in my workshop.
I hope to be remembered, if anything, as a working artist - one who wasn't afraid to roll up his sleeves and get his hands dirty. I firmly believe that a certain amount of manual labor builds character, I'm proud of my working-class roots, and I hope they show in my paintings.
Contact Info:
Rudolph Goss
email: Email the Artist
P.O. Box 90
Halifax, MA 02338-0090

Member of Oil Painters of America